Competitive Home Moving Quotes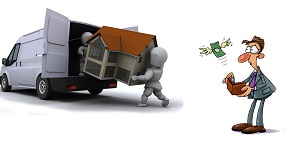 We all want the best price when we look for moving quotes. Whether we're moving in Australia or moving abroad, we all want good quality and good value when we look for home moving quotes.
Any person who has experienced a house move will know that it is an expensive business. Most people have to tighten their belts for this one event. But why should you pay out more than you need? That's why it's good to look around for the best home moving quote you can get.
The problem with the home moving market is that most people do not know how to look for a moving quote. Some people just turn up at a removalist's office and ask for a home moving quote without knowing what makes a good one - or how to get one!
There are a few steps to get ready before you request a moving quote. Such as have you got a list of items you want moved? Do you know where you are moving to? Have you considered backloading removals? Do you need help with pre-packing services?
But where do you start?
Well, there are all kinds of places that you can look for this kind of information. Most people go online and search for home moving quotes. Others ask around, while others see advertisement on tv or elsewhere. Some people want a phone quote and others a quote via email.
At the same time, you need to know how to interpret home moving quotes - let's take a look at some of the important things!
Tips on getting competitive home moving quotes:
- Remember that no two home movers are the same. Some charge per item, some charge by space used, others per hour. Check what they offer and see which is the best deal.
- Get home moving quotes in writing - email, fax is fine if you ask for it in writing. Don't just rely on a verbal quote over the phone!
- Be ready to give details of your move - dates, places, number of items. That way the home moving company can give you a good quote.
- Get moving quotes from a number of moving companies to compare.
- Also ask for an itemised list as well as your final check price to make sure no hidden charges apply.

What is a quote for moving?
The moving quote is like an offer your mover provides based on the inventory list you have provided and distance you want to move. A moving company quote can give you a general idea of how much it will cost to move from A to B. That is why it's a good idea to make sure all the information you have is correct and ready to be submitted for a free moving quote.
If you know the information your moving company needs, you can make sure all their questions are answered and they can come up with a moving quote for your move as soon as possible.
Why is backloading cheaper than interstate removalists?
Different factors influence the cost of moving:
- Distance and mileage (beyond 30 km) will effect price (moving prices go by mileage).
- Height of property for both pick up and delivery. 1st, 2nd, 3rd floor can effect the price of your moving quote.
- Backloading removals can be an affordable alternative if you are on a tight budget.
- Pre-packing service will usually add to the overall cost of your moving quote

When should I get a moving quote?
Ideally you should request a moving quote from local removal companies 6-8 weeks before your target move date. However, it's possible to arrange for an earlier or later time frame if needed and depending on requirements such as backloading or the time of year which can also affect the outcome of prices too! We recommend getting prepped early and your moving quote requested sooner rather than later to secure the dates you wish to move.
You can request the best home moving quote from DLM Removals over the telephone at no obligation. We offer our customers an instant price for their move and provide a checklist to help you get ready. With long distance moving quotes available throughout Queensland, New South Wales, Victoria, South Australia, Western Australia and Tasmania. Along with local moves throughout South East Queensland including Brisbane, the Gold Coast, Sunshine Coast and Toowoomba.
Finding the best priced moving quote
Compare moving quotes from several moving companies suited to your moving needs. So, if you are moving interstate then an interstate moving company should be where you get your moving quote. Also, if you are moving within the same state, request a moving quote from a moving company based in that state or even that same city or town you are moving from. WE always recommend getting moving quotes from actual moving companies and not third-party brokers.
Finding the most suitable home moving company quote
As mentioned earlier, you should look for a moving company that can provide you with the moving services you need. If you want backloading removal quotes. Then find a backloading removalist company to provide you with a moving quote. Consider if you are moving locally, intrastate or interstate to find the most suitable moving company quote.
Finding the right home moving quote can be done with trust and the best intentions at heart. If you need to move, it's good to know you've made an informed decision about who to hire for your moving quotes needs. Get started today by contacting DLM Removals!
Competitive business moving quotes
Most removalist or backloading removal companies will be able to provide competitive business or office moving quotes. Moving your business can be a daunting thought. If you have been located in one place for a long time, there is no doubt you have accumulated quite a bit of goods. The last thing you need is to worry about who can move your goods safely and securely. You don't want to leave the moving of your business in the hands of just anyone, do you?
Don't take any risks with your business. Instead contact our highly trained removalists for all your office or industrial requirements. If it's time to move your business, we're here to help.
Whether you want interstate moving quotes or local removalists in southeast Queensland, we can accommodate your every need! We promise to always treat you with respect and deliver top notch services for any corporate office, business, or warehouse relocation.